Moderator: Gazza
Gazza
"Understeer is when you hit the wall with the front of the car, oversteer is when you hit the wall with the rear of the car. Horsepower is how fast you hit the wall and torque is how far you take the wall with you"
S54 M roadster
, BMW Z1, BMW M3 CSL, Mustang Fastback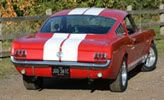 ---
If they offer a good Porsche Speedster replica - I'm interested
---
I had a look at that last year that's why I bought my z3 thinking it would be a done but I'm glad I kept her as is so I'm with gazza z3 yes cobra yes but not together
peter2b
---
Joined: Fri 26 Jul, 2013 10:28
Posts: 1725



Location: Manchester
I have to admit I do quite like it (especially in Blue with the Ford TT stripes) and I am tempted by this... especially as I have bought myself another little toy and the missus has put her foot down and told me the 2.0l must now be sold...
However, if I changed it to this then she might not notice..
Here come the girls.....

My //M Refurb
My First Zed Journal
---
Joined: Wed 30 Sep, 2015 12:35
Posts: 21



This is the reason I got my Z3. And its still my plan.
The ferrari one they have on the site likes kinda cool too but I really like cobras... and I do like these kits. Ive been trying to find somewhere that has a sort of build diary/step by step deely so I know exactly whats involved (And a complete list of the other parts you need would be nice too - or at least a reasonably complete one )
---
Who is online
Users browsing this forum: No registered users and 1 guest