Moderator: Gazza
Joined: Thu 07 Oct, 2010 13:39
Posts: 6312



Location: Johannesburg
Here's something to watch when the weather won't let you drive with the top down....
https://www.youtube.com/watch?v=apqDx0o6ZgA
"Normal is overrated"
Z3 Upgrades and Additions
---
They skipped over the Z3 so quick, obviously they didn't think it worth mentioning, in their opinion 'not very sporty'
Gazza
"Understeer is when you hit the wall with the front of the car, oversteer is when you hit the wall with the rear of the car. Horsepower is how fast you hit the wall and torque is how far you take the wall with you"
S54 M roadster
Mustang Fastback, BMW Z1, BMW M3 CSL.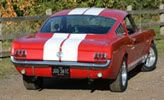 ---
Joined: Fri 26 Jul, 2013 10:28
Posts: 1725



Location: Manchester
dismissed the best roadster ever
Here come the girls.....

My //M Refurb
My First Zed Journal
---
Who is online
Users browsing this forum: No registered users and 2 guests