Moderator: Gazza
---
Congrats to your son. My zed has twice been used as a wedding car. Much better than a Roller.
Cheers R.
Arctic Silver '99 Z3 1.9 & Black '59 Frogeye 1275cc

---
best wishes to the groom and bride nice way to start
peterz3
---
Congratulations to the Bride and Groom
Gazza
2001 M roadster S54
1965 Mustang 289 Fastback, various other Yank Classics. BMW Z1, BMW M3 CSL.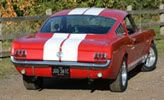 ---
Who is online
Users browsing this forum: Bing [Bot] and 2 guests