Found on eBay, not mine but I thought someone was looking for these a while back.
Clickity Click
Quick, message Amz and you may have found a new best friend!

Edit: Just read thread, and these don't fit his...
BMW Z3 2.0 Titan Silver -
Progress Thread
(Pictures -
http://s852.photobucket.com/home/gazhyde/allalbums
)
I saw these I think yesterday and Amz would have been the first to jump on them but the ones for sale are for a pre facelift.
I'm sure they would fit any pre facelift 1.9, 2.8, maybe even the z3m too.

No a bad price either.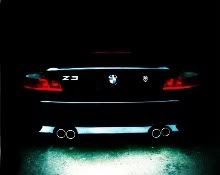 Does anyone know if these fit the pre facelift for defo I have a 2.8 and i'm ready to buy these if they will fit? whats the differance between pre and post I thought they wouldn't fit as there listed as a narrow body. I couldnt see there being much differance at that part of the rear quarter where the door meets, any ideas ???
BMW Z3 2.0 Titan Silver -
Progress Thread
(Pictures -
http://s852.photobucket.com/home/gazhyde/allalbums
)