EDIT: This is a
journal
detailing how I first fell in Love with the BMW Z3 - After 4 years of ownership the joy has been passed onto another forum member but I hope you enjoy reading.
Ok.... so its has been a while getting round to do this but hopefully it will be interesting and give some people some ideas, it is still work in progress so will be updated as and when I can - everyone has been really helpful on here but I particularly want to thank Gookah and Southernboy who have given me loads of useful advise already.... Also, it will be good for me because
my
Zed had already had some modifications done to it when I bought it so I would appreciate it if people can advise what is changed and what is original please. It also has some teething issues which I have got used to but I would appreciate any help or advise on fixing....
18 months ago I changed
my
job and ended up working on the south coast in Gosport. Initially I took
my
main car (3.0L Audi A5 Quattro) down there to use Monday to Friday and use
my
motorbike (and the missus' car) at the weekend when back in Manchester.... Anyway, after a month of riding daily and enduring the beautiful Manchester drizzle I changed
my
plans and decided I would get myself a cheap little run around for down south and bring
my
A5 back up to Manchester. I had a limited budget so I figured that it would be best to get something that had pretty much fully depreciated so that I could get
my
money back in 12/24 months when
my
south coast contract finished.... Having looked on auto-trader at various (IMO) classic cars (Golf GTI, MX5, Capri) I decided that I was going to get a Z3 - I had always had a soft spot for them and with there only being me using it there was no need for 4 seats - plus, being on the south coast, a convertible seemed like a good idea... Honestly it was nothing to do with turning 40!
So, having no knowledge of the cars themselves, various models, issues or anything
I started trawling through Auto-trader and ebay I managed to narrow it down to half a dozen local to Gosport. If I had known then what I know now I would have probably have held out for a bigger engine and maybe one with less mileage (and less "loveable" traits) but I didn't so eventually I chose a 1999 2.0L facelift version in Titan Silver... Why? Well because it was shiny - had red interior with a chrome center which was different from the others on
my
shortlist, and the wheels "looked cool"... all these things I assumed would give it an edge when I came to sell it on in 12 months.... Fast forward 18 months, I have changed contracts and I now work mainly from home but at the moment I have no intention of selling it - to the point where we are currently having the front lawn removed and the drive extended so it can fit on the drive!!
This was the car when I first bought it.... If anyone recognises it let me know...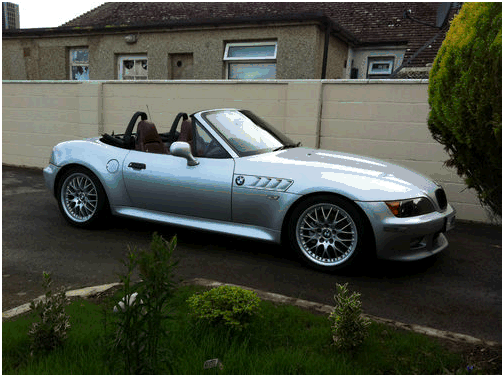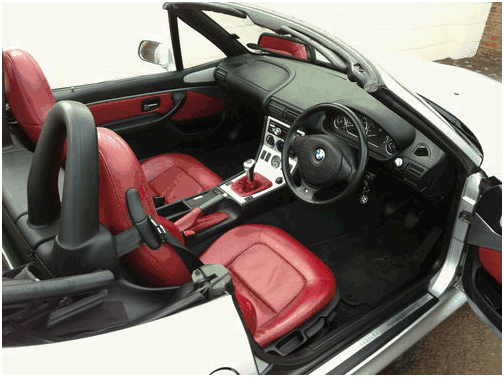 So.... It had 138,000 miles on the clock (now 147K)... the previous owner had put the M sport steering wheel and gear stick on it. He said it had already been lowered and had the BBS(?) wheels on it when he got it which are 17" all round (rear continental & fronts Pirelli which may explain the tramlining!). I have no idea how much it has been lowered, if the wheels have any spacers on them or if anything has been done to the brakes - looking at them I don't think so - they seem to be standard when compared to images of new brake parts I have seen online, although the calipers on the rear have been painted (one Red and one Blue...
). There are no badges on the car apart from the standard BMW badges, not sure if this is standard or they have been removed later, and I have also noticed since I bought it that there is no tango in the lights - apart from the OEM headlights all the other lights are clear, including the 3rd brake light - again I am not sure if it was bought like this from the showroom or whether it has been altered later? The standard red leather seats are from new, as I assume is the center chrome console? It has a manual roof and not much else, only the ASC button in the center console.
So, what was / is wrong with it; what has been done and what is still to do? Well firstly, having agreed a price with the seller he took it for the MOT as agreed. It passed with only a couple of advisories but when I went to pick it up the ABS lights were on - I was told that it was a loose connection on the green wheel sensor clip (verified by looking online at what was retrospectively probably this site) but enabled me to knock down the price by another £100 so I decided it would be fine....
Having picked up the car I drove it back to Manchester for the weekend to give it a good run but
my
smile disappeared when it developed an intermediate misfire around the M25! After that I noticed that when stationary in traffic the oil light flickers on like it is going to stall - so, having thought I had bought a duffer I booked it in with BMTEC in Manchester for a look over. They gave it a service, managed to fix the misfire quite easily by replacing a duff coil pack but were unable to reproduce the oil light flickering fault. They also said that on the whole there was nothing wrong with the car, there was (and still is) a very slight misting on the rear diff but it was safe and in good condition; as I was still only planning to have to keep it 12 months I drove off happy.
So from that start what is still wrong? Well the misting on the diff casing is still there but will be sorted out shortly when I take it to the garage, it doesn't drip or anything and all the advise I have had from various mechanics is that it is nothing to worry about. The flickering oil light still happens when the car is stuck for a long time in traffic. It doesn't overheat or anything just flickers the oil light - has anyone any ideas what this can be? Finally, the car itself is a little bit awkward to drive in the fact that you have to give it quite a bit of accelerator before it revs and you can pull off. I think this is probably a result of a stretched throttle cable(?) and is another job I have planned for this winter. Again, thoughts welcome....
Ok, so having listed the issues above and accepted them I started to use it regularly during the week and through looking on this site started to get some ideas on things to do... first of all I replaced the stereo and got one which was hands free and could stream music wirelessly from
my
iphone or ipod. While the stereo was out I also took the chance to replace the heater control bulbs which I noticed had all gone.
After a few months the car developed poor running but this was easily identified as a split in the air pipe - no pictures of it sorry but I think it is a common problem and meant that the mixture of air to petrol was not correct resulting in the poor running. While fixing this I also changed the air filter, I looked at a few different ones, including K&N (which I have on the A5) but after getting advise from a friend who races BMW E30's I got the BMC one.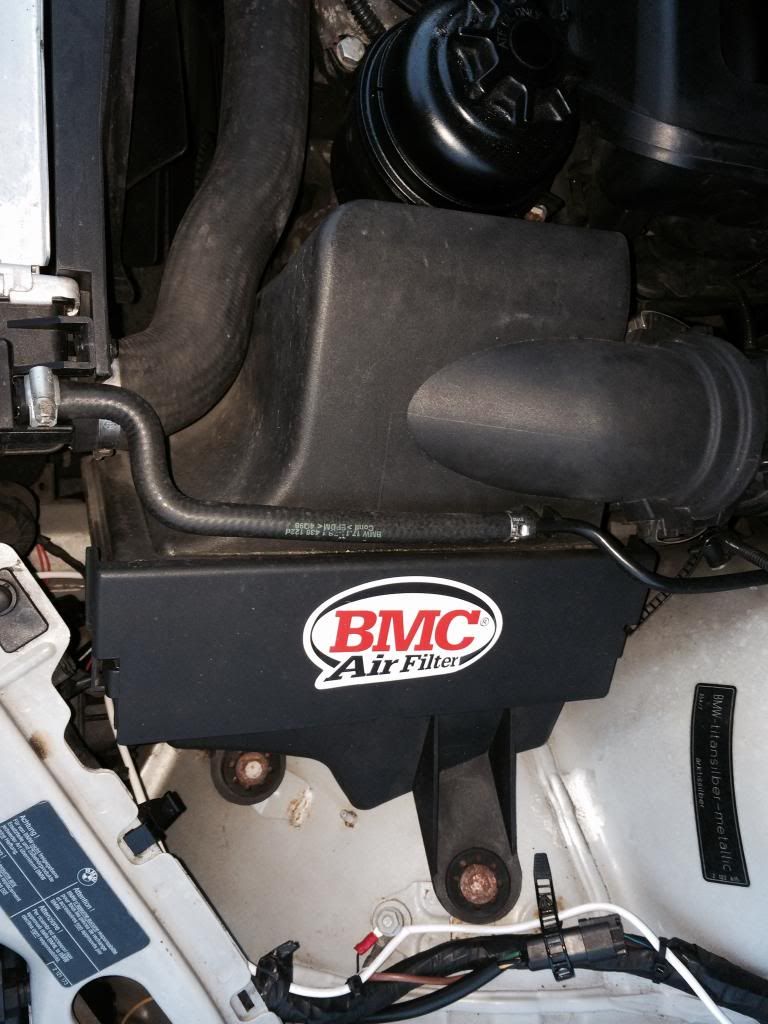 Next it was time to change the grills... I got these off ebay brand new, I prefer these to the colour coded versions.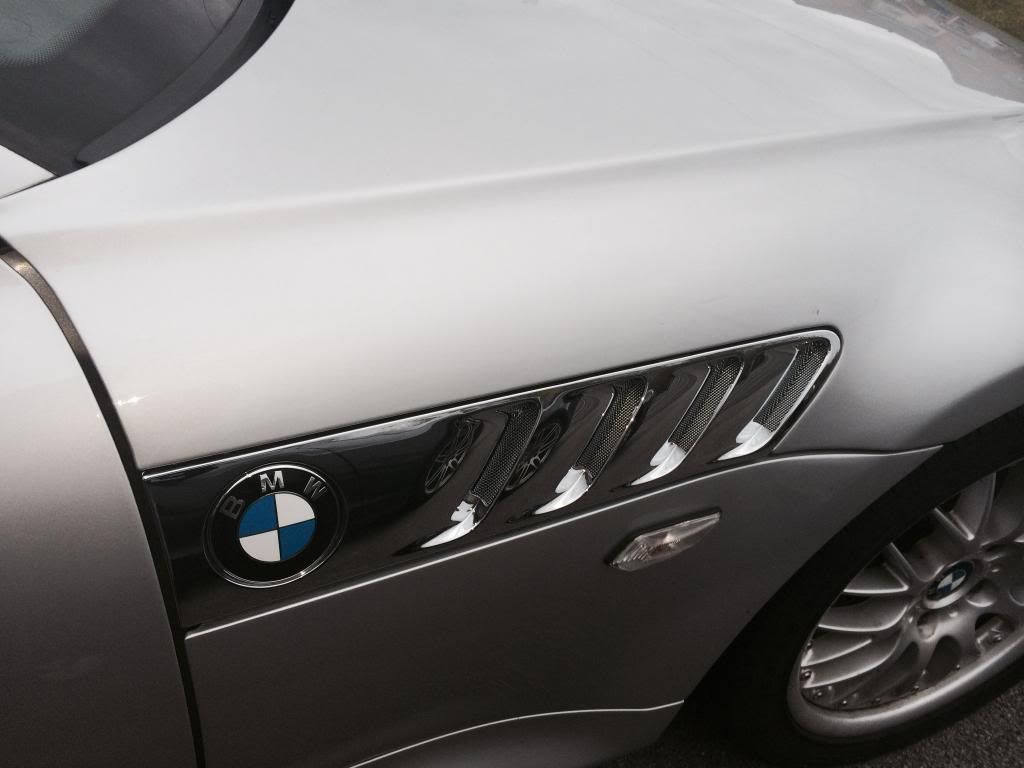 I also changed the front grills and the headlights to these aftermarket ones which give it a better, cleaner look I think. I also changed the bulbs in the sidelights to bright white bulbs off ebay
Finally from an exterior point of view I bought a hardtop, stand and fitting kit - actually the truth is I purchased 2 of them - too long a story for this
journal
, but I have fitted the kit and the hardtop and had it on and off a few times without any problems. This is how the car looks externally at the moment, I think the hardtop really changes the appearance of it.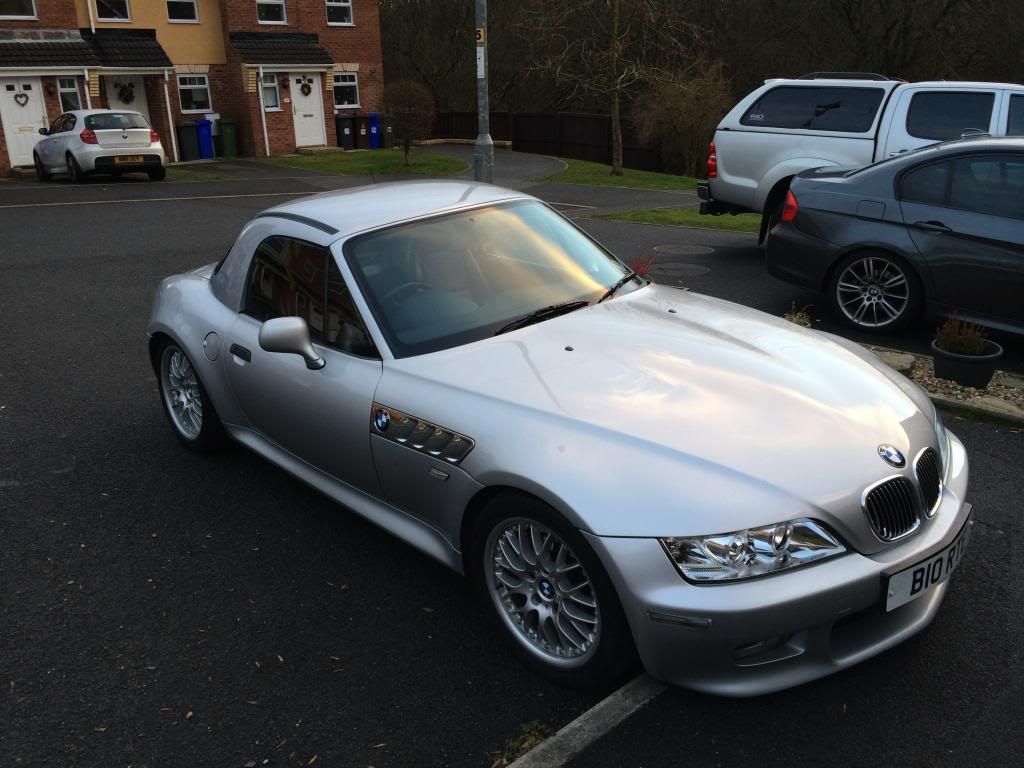 I won't bore people with the fitting of the hardtop kit, there are plenty of instructions on here and if anyone needs advise I am happy to give it. However, I will share
my
experience of finding the "hidden/mistery" loom for connecting the heated rear window. I managed to source an original relay for the HRW off ebay and bought the HRW button (the facelift one) direct from BMW and fitted that, the location of that end of the loom was as described previously on many threads - behind the rear of the center console, taped down to the bottom metal frame behind where the rear blanking plates are along with what I assume is also the connection for the electric hardtop button, but after looking at numerous threads on here I remained baffled as to where the other end of the HRW loom was. I took
my
passenger seat out, removed the trim down the side and pulled the carpet back behind the passenger seat but couldn't see any connector. I finally found it taped to the rest of the wires but it was behind the passenger roll hoop under the cardboard type carpet under the roof.
I have a number of other items and changes that I am looking to add and fit which have been in the garage for a while and at the start of Jan 2014 whilst looking for the loom above, I inadvertently got carried away and kept removing screws until I ended up removing quite a lot of the interior of the car.... opps !!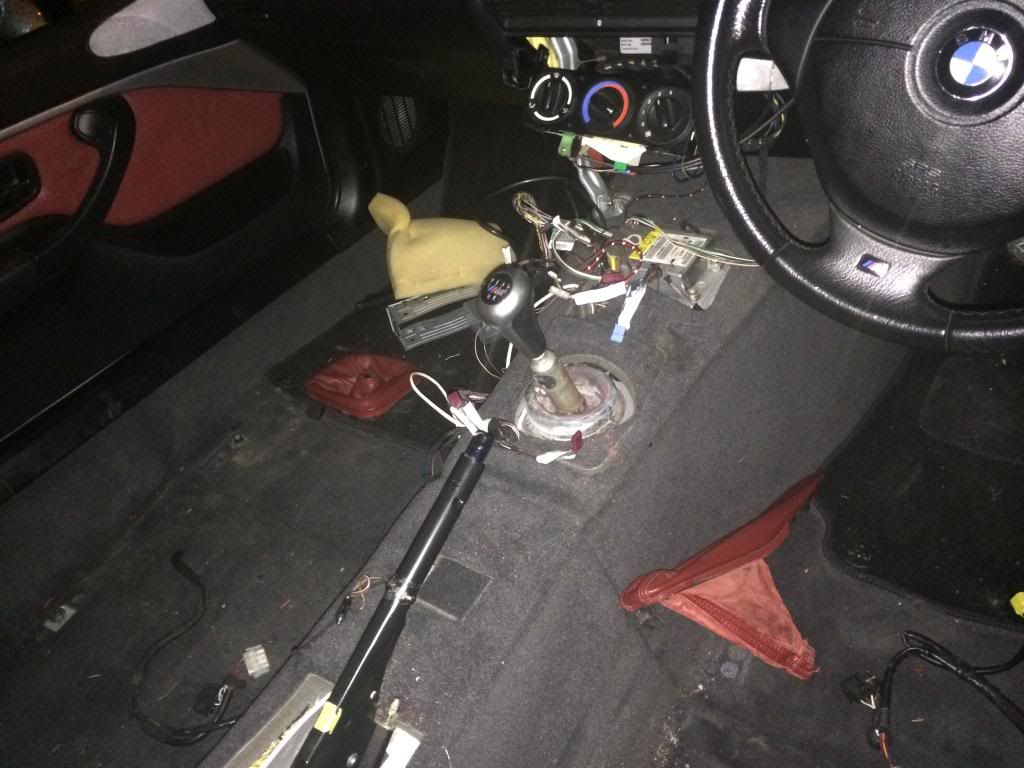 I noticed during all this that
my
Zed has been fitted with the (Optional?) HK subwoofer where some people have a storage box and has also had some additional after market speakers fitted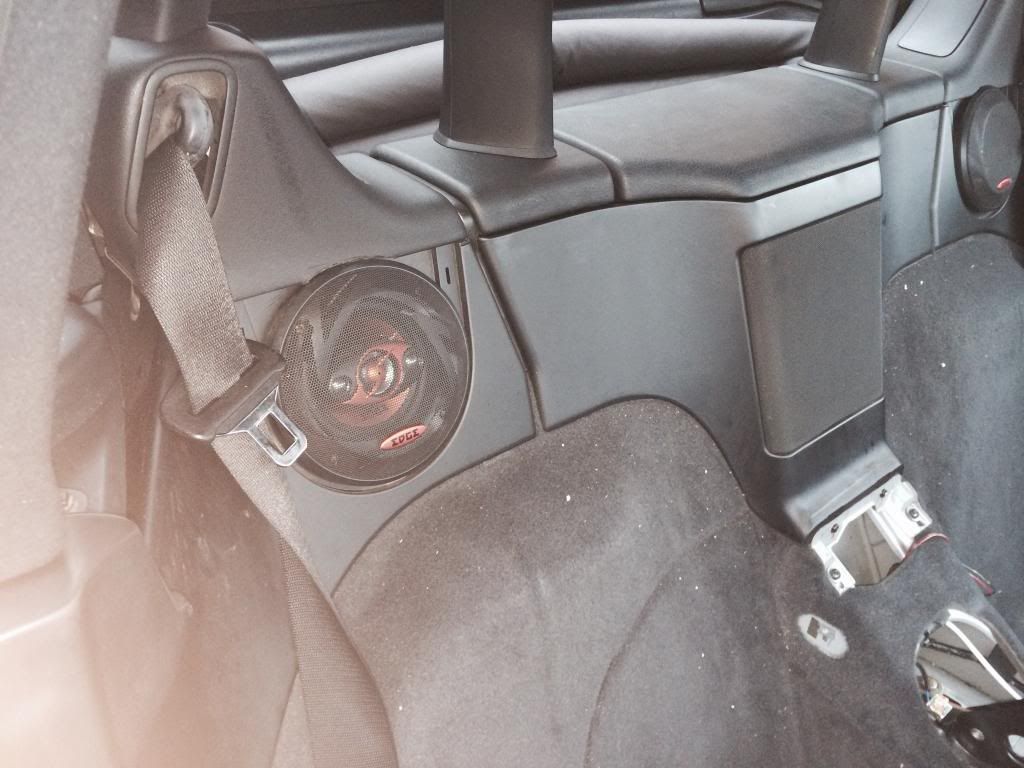 As I mentioned above, I have a number of things and changes I am looking to make and so stripping out the interior wasn't an issue as it is required for the changes I have, or should I say had planned... but, as with all best laid plans they change. After unsuccessfully searching and waiting for ages for a set of M or Sport seats to come up for sale I decided to refurbish
my
standard ones. Initially
my
plan was to remove the standard seats and give them a touch up with some Tanin Red scuffmaster; replace the seatbelt guide on the passenger seat which has broken and, after
my
airbag light came on in September, check and fix the wiring for the pre-tensioner. On top of these common jobs, I was going to raise the front of them for a more comfortable seating position and I also bought a set of retro heat pads which I was going to fit to the seats while I had them out.
However
my
seats had only been out for 2 days when a set of red and black heated sport seats came up on ebay
I think they call it sod's law!! Anyway, they were nice and cheap so I snapped them up. They need cleaning and the drivers bolster is split and needs repairing so they are currently at the trimmers but here they are in their current condition.
Not sure what I am now going to do with
my
standard seats - There is nothing actually wrong with them so I think I will still refurbish them and fit the heated seat pads and then see if anyone wants a set of perfect heated tanin red seats.
One of the other modifications I had bought a while back was a set extended leather hockey sticks for the center console. I have fitted these now while the center console is out and will add pictures later when it is all put back together. Obviously with these fitted I have now decided that I want extended leather on the dash to match - luckily Southernboy has just changed his car and had some for sale. Unluckily someone else beat me to them
However, the next day this came up on ebay and changed all
my
plans again....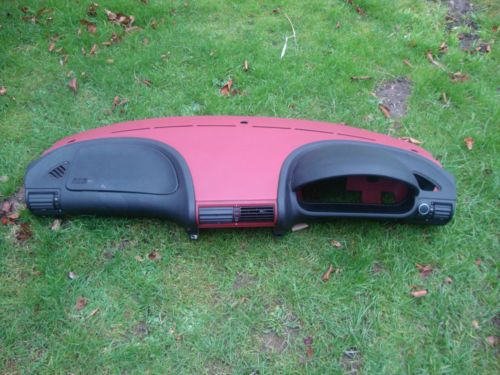 Having had the dash delivered, it isn't in as good a condition as I had initially thought, the red parts have a number of scratches that will need to be filled and given the scuffmaster treatment to make them tanin red again. On top of that, the drivers vent and piping underneath is missing but its a start - this of course means that I now need to go back out to the Zed and remove
my
standard dash which also wasn't in the original plan !!
With refurbishment of
my
"new" dash now on the cards I have decided I might as well go the whole hog and have the extended leather made up and fitted to match
my
new hockey sticks. As Southernboy is currently having some made up for his new zed, I have got his trimmer to make me a set up as well so it will be all red and black to match
my
new seats and existing door cards. As with everything though, its not that simple of course and for extended leather to go on, vinyl must come off!! So, with a dremmel, a drill, 3 screwdrivers, 2 wall paper scrapers, a hairdryer, a carving knife and 2 days hard work, I have managed to create the following..... the missus is SOOOOOOOO pleased !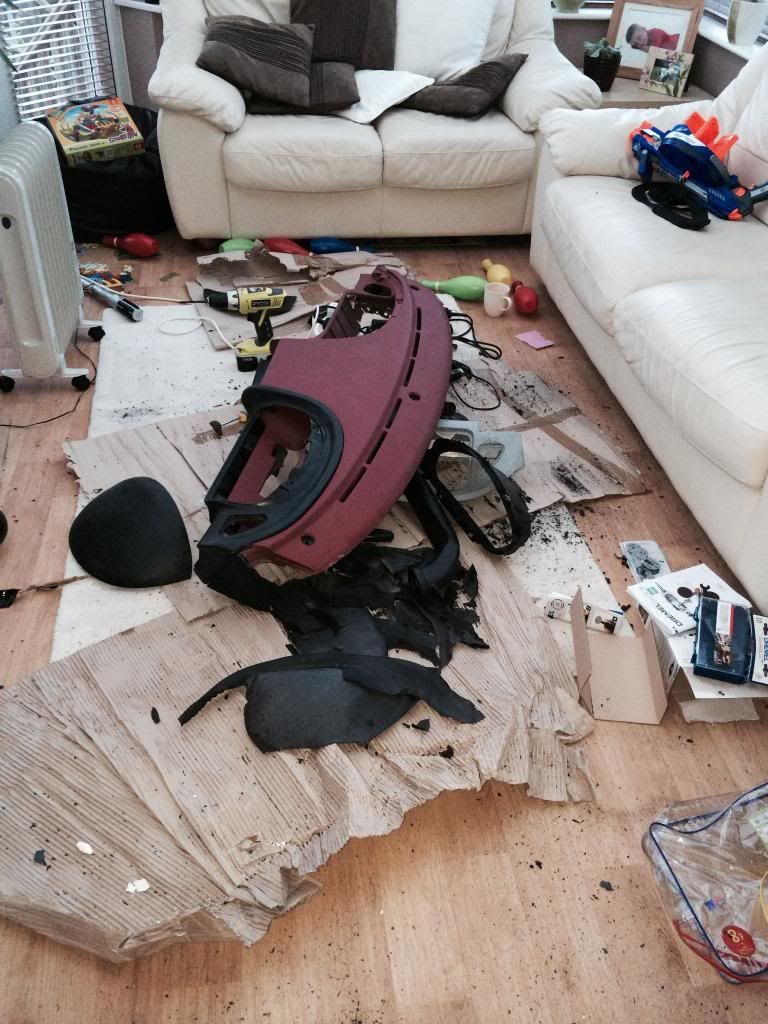 Well that's it for the last 18 months up to today..... The next thing to do (after tidying up!) is to clean all the bits in the bath (and then clean the bath!) and then wait for the postal strike in South Africa to end so I can try and fit
my
new leather to
my
new dash. I will post further pics and updates as and when