Moderator: Gazza
I am getting white smoke when I start my Z1 it goes once I start using it, Anyone else get this? Its not the head gasket as no coolant missing and oil is perfect. it also runs and drives perfectly.
---
I would do a coolant pressure test.
Pingu
---
White smoke us usually water.
Gazza
"Understeer is when you hit the wall with the front of the car, oversteer is when you hit the wall with the rear of the car. Horsepower is how fast you hit the wall and torque is how far you take the wall with you"
Z3 S54 M roadster
, BMW Z1, BMW M3 CSL, Z4M Coupe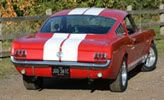 ---
It's not unusual particularly as the weather cools. Water vapour is a normal part of a petrol engine's exhaust; when the exhaust system and engine are cool the vapour is able to condense in the exhaust system and is visible from the tail pipe for a short time after start up. Assuming your coolant level stays constant you have nothing to worry about.
---
Who is online
Users browsing this forum: No registered users and 1 guest