Moderator: Gazza
---
I know of two here in the UK.
Gazza
"Understeer is when you hit the wall with the front of the car, oversteer is when you hit the wall with the rear of the car. Horsepower is how fast you hit the wall and torque is how far you take the wall with you"
Z3 S54 M roadster
, BMW Z1, BMW M3 CSL, Z4M Coupe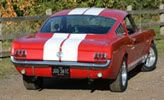 ---
Joined: Wed 17 Apr, 2019 22:47
Posts: 14



I have just bought a exhaust from Only Exhausts (made in Poland) with some trepidation for my 5 week old 1998 Z3, but am delighted with both the fit and especially the sound, which is much deeper and throatier than it was before, despite the small hole that existed before it was replaced. It was from Ebay - for £45.
Andrew
---
Who is online
Users browsing this forum: No registered users and 2 guests