Moderator: Gazza
Z Register member
Joined: Mon 07 Nov, 2005 15:53
Posts: 890



Location: W2
---
Hi RT,
Are you about to bite the bullet and join the clan again.
Hope you are well.
Regards,
Ivor
________________
1990 Red Z1 (Gone back to the motherland)
1991 Green Z1 (stolen by the wife)
---
Was it originally registered in France ?

You know you want to .... plus you only live once, etc, etc
---
I don't know AL 00399, but I am very familiar with AL 06863 (urgruen over gelb), which, having tarted up beyond all recognition, I am thinking about selling. 47,000 km, 2 previous owners, full history, looks mint. Let me know if you are interested...
"There are roadsters, then there is the Z1", Brett Fraser, Car Magazine Aug 1989
"The BMW is simply superb", LJK Setright, Car Magazine, Apr 1990
"It's impossible to drive without a smile", Rowan Horncastle, TopGear.com Sep 2017
---
Sponsor 2018
Joined: Thu 01 May, 2008 18:29
Posts: 461



Location: Hertfordshire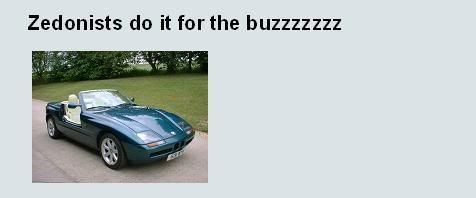 ---
Z Register member
Joined: Mon 07 Nov, 2005 15:53
Posts: 890



Location: W2
Thanks, that's helpful.

I am toying with the idea. But current asking prices are taking a lot of getting used to when you remember that in 2014 I only got £24k for my last one, which was immaculate and had a hard-top.
Currently: bereft of Z1
Previously: 1991 Ur-grun Z1 and 1991 Traum-schwartz Z1
---
Hi RT,
I am also selling mine if you are interested.
It's had a recent complete body respray and various other bits fettled by Ivor of this Parish
It's AL6309 from 1991 with Black with camo seats and also has a hardtop.
PM me if you'd like any more details.
Cheers,
Paul
---
---
Who is online
Users browsing this forum: No registered users and 1 guest